We are fortunate here in Catalunya to have Spain's biggest airport in terms of airlines and destinations – 69 airlines and 163 destinations to be precise – within pretty easy reach. Yep, Barcelona has even more of both than Madrid, the nation's capital and biggest city! As of 2023, in Europe, BCN comes in 10th for both the greatest number of airlines and destinations. So we're not exactly stuck for choice here when it comes to international travel.
But sometimes travelling "all the way" down to Barcelona Airport seems like a bit of a drag compared to flying into or out of our local, much closer and smaller Girona-Costa Brava Airport, located 12km south of Girona city in the municipality of Vilobí d'Onyar. In contrast to Barcelona Airport, GRO (to use the airport code for Girona) ranks as the 26th biggest airport in Spain – although in terms of destinations it punches above its weight, coming in 13th…
A little bit of history
Aeronautical activity began in Girona Province with the first flight in 1913 and continued through the 1920s until in 1931 the Aeronàutic Club Empordanès was established in Figueres. They used to stage an annual Spring Classic Festival at an airfield near the city as well as a number of glider exhibitions. In 1932 another club was founded, the Aeronàutic Club Cerdanya and in 1934 they built an aerodrome at Cerdanyà that still exists today. They also began flights of touristic interest on the Costa Brava and in the Pyrenees, but before things could really get going the outbreak of the Spanish Civil War in 1936 brought their flying activities to an abrupt halt. During the war airfields were used for military purposes and at one stage there were up to seven of them but, with Franco's victory and the subsequent abolition of the Catalan government and direct rule from Madrid, there was no further development and almost all the airfields vanished.
Girona-Costa Brava Airport is born
Fast forward to 1957 when the Diputació Provincial (Provincial Council) de Girona began taking steps to establish an airport in the province and chose the site in Vilobí d'Onyar where today's airport is situated. It was 1965 before the new airport finally had its runway and a parking lot for nine mid-sized aircraft, and it was also given its new name: Girona-Costa Brava Airport. The following year the runway was extended and some other additional works were carried out, and in April 1967 it opened to national and international civil air traffic.
The boom years
In 1969 the parking lot was expanded and work also started on a new terminal building that became necessary due to the growth in traffic. In 1975 the airport had to be closed to lengthen the runway again to accommodate larger aircraft needed to cater for the continuing boom in air traffic, especially summer charter flights. After a bit of a dip during the 1980s, passenger numbers increased again through the 1990s and in 1991 it became the operational base of a pilot school. Growth continued in the 2000s in particular hitting a peak in the year 2008 when 5.5 million passengers passed through the airport.
The vast majority of flights were operated by the Irish airline Ryanair though, and when a newly elected Catalan government declared that the deal between the previous government and Ryanair would no longer be valid and would have to be re-negotiated, Ryanair threatened to simply pull out of Girona Airport altogether if the original agreement was not honoured. Given that about 95% of all flights were Ryanair's and considering that the economic crisis also hit at the same time, it might not have been the smartest move on the part of the Catalan government! In the end, Ryanair did continue to use Girona Airport but no longer as one of their hubs, and they also began to operate out of BCN airport. The combined effect reduced passenger numbers to levels way below those of the heady days of 2008.
So what's the story now?
Considering that Ryanair used to sell its flights into what they called "Barcelona-Girona Airport" on their website, it was no surprise when they later began to fly into BCN itself. In hindsight, maybe more could have been done to promote Girona city and Province, including the Costa Brava and the Pyrenees, as a destination in its own right and not just a gateway for cheap flights to Barcelona city.
At the time of writing (February 2023) Ryanair's website is showing no flights operating in and out of Girona-Costa Brava Airport available for sale beyond the end of October. Having said that, Ryanair did continue 7 routes throughout the winter of 2021-22, and that was despite the effects of the Covid-19 pandemic, so who's to say they won't do something similar in the future? Fingers crossed!
In the meantime, Ryanair will fly from Girona to a total of 28 international destinations in ten countries between the end of March and the end of October (although a couple of routes actually commenced at the end of February). They will have one aircraft based there and employ 30 staff, with more than one million passengers expected to use the airport over the next year. There will be daily, or almost daily, Ryanair flights to Charleroi in Belgium; Beauvais, France; Dublin, Ireland; Pisa, Italy; Düsseldorf-Weeze, Memmingen, Nürnberg and Karlsruhe-Baden in Germany and Stansted, Bournemouth and Bristol in the UK.
They will fly less frequently to Brussels, Hahn, Eindhoven, Pescara, Cork, Shannon, Knock, Belfast, Helsinki, Riga, Krakow, Poznan, Wroclaw, Leeds-Bradford, East-Midlands, Manchester and Birmingham. Ryanair's only domestic route links Girona with Santiago de Compostela three times weekly during the summer.
Dutch airline Transavia connects Girona-Costa Brava with both Amsterdam and Rotterdam-The Hague starting in the month of April. In May and June, and again in September and October, their flights will operate five to six times weekly, while in July and August they will fly daily to both airports.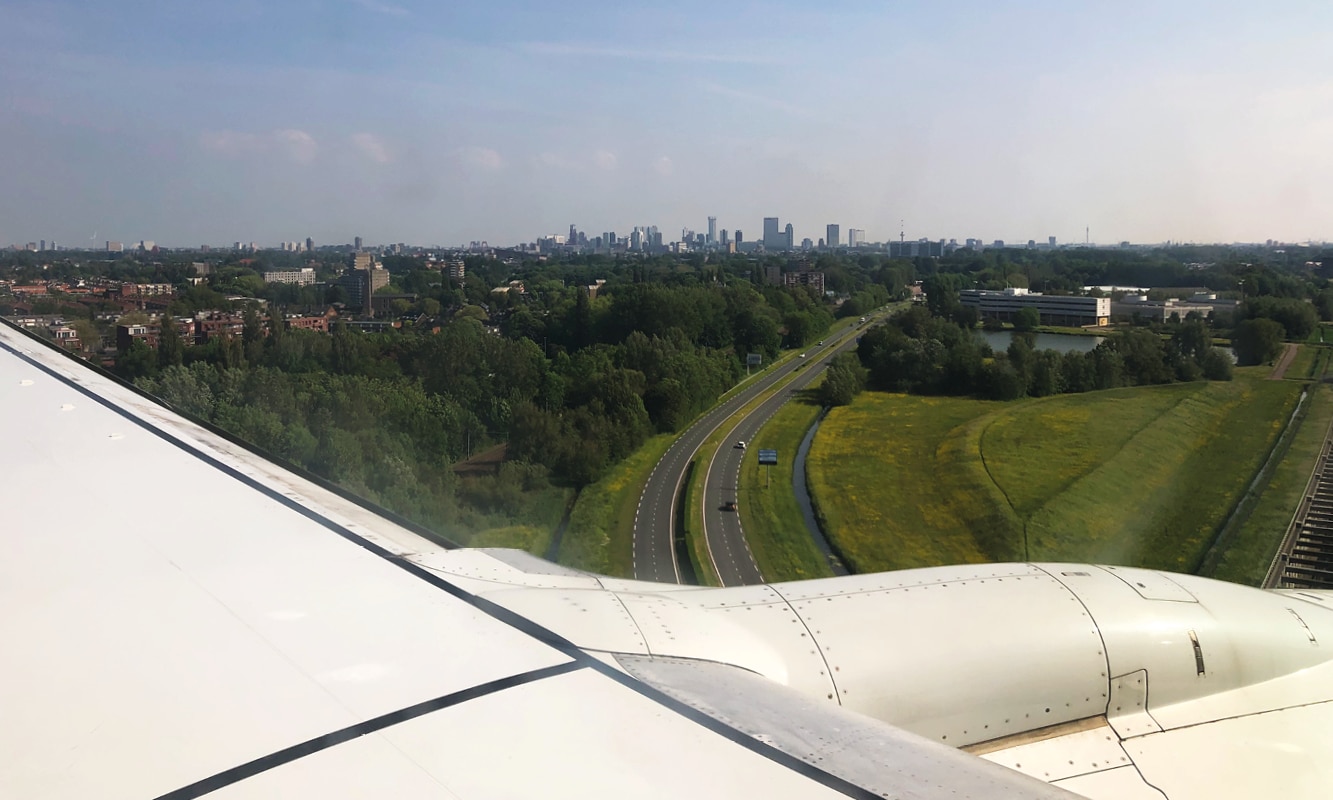 Tuifly will fly between Brussels Airport and Girona twice a week from May through September.
The British budget carrier Jet2 will fly to Girona between May and October, once or twice a week from Bristol, East Midlands, Newcastle, Birmingham, Leeds-Bradford, Glasgow and Stansted, while it has a more frequent service on the Manchester route.
Getting to and from Girona airport
As we mentioned before, more could be done to encourage travellers to use Girona-Costa Brava Airport, and this is especially the case when it comes to the public transport serving the airport, or the lack of it. The Sagalès bus company runs about a dozen buses per day into Girona city, but with a couple of big gaps in the schedule at certain times of the day. During the months of July and August – and only during those months – they also have four daily buses serving the Costa Brava towns of Sant Feliu de Guíxols and Platja d'Aro plus two more services later in the day that also serve the other coastal towns up as far as Palafrugell. Another bus company, Sarfa, has 6 buses a day, also in July and August only, that serve the coast from Sant Feliu de Guíxols to Palafrugell.
Given that Girona has flights arriving from around mid-March until the end of October, and even some into November, it is pretty hard to fathom why there is only public transport from Girona-Costa Brava Airport TO the Costa Brava for two of those months! Even if you take the Sagalès bus from the airport into Girona city, the buses from Girona bus station to the coast are operated by a different company, Sarfa, and their schedules are not coordinated with those of Sagalès. For this reason, travellers very often decide that it is less hassle to take the direct bus to Barcelona Airport and fly from there instead. It's a pity…
If you won't be away too long then parking your car at the airport is a better option and the costs are very reasonable. Or you could rent a car.
Update:
L'Associació per a la Promoció i el Desenvolupament de les Comarques Gironines (The Association for the Promotion and Development of the Girona Counties) – or AGi – concluded, after a study in 2022, that Girona-Costa Brava Airport is "disconnected" and "isolated" from its surrounding territory. (If they'd read our blog it would've saved them the bother of the study – or maybe that's what they did!)
Among their suggestions to improve the airport were renovating the existing terminal building and improving (the almost non-existent) public transport – including building an AVE train station – to help decarbonise the airport's activit and link it to the surrounding area. Their proposed master plan would cost around €365 million with the aim of bringing in 10 million passengers per annum on around 75,000 flights. Sounds good, but let's wait and see if any of the happens!
In the meantime, if you do fly into GIrona-Costa Brava Airport you'll probably find that the best option is to get a cab. Typically fares cost between €60 and around €80, depending on how many of you there are and where you are going. At callCarlos we know plenty of local taxi drivers so give us a shout before you fly (in either direction) and we can arrange a reliable taxi and a fixed fare in advance.
Bon viatge!