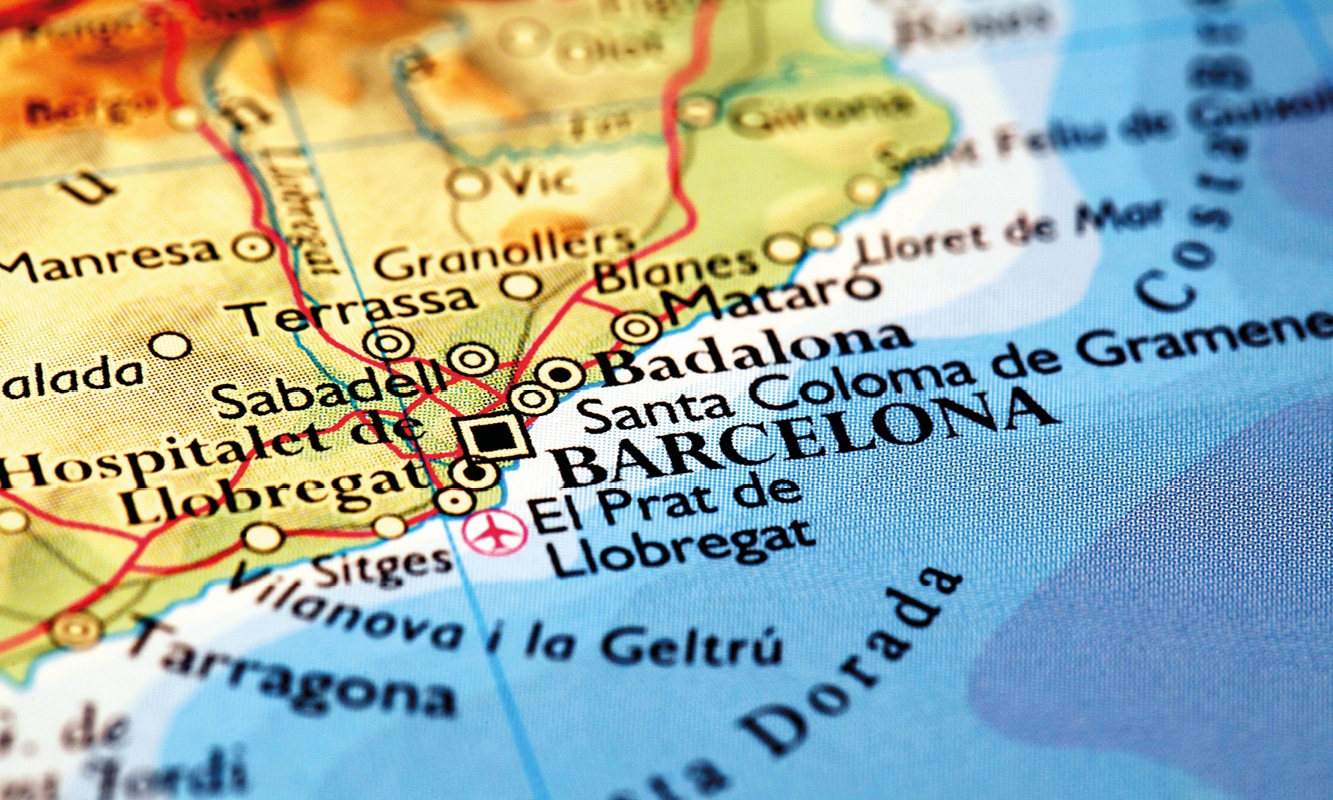 The resumption of flights from Girona-Costa Brava Airport every spring is always welcomed by Costa Brava residents, but the routes and schedules typically change from one year to the next. For this reason, and also for a greater choice of destinations, we often end up using Barcelona Airport.
Barcelona has Spain's biggest airport in terms of airlines and destinations – 69 airlines and 163 destinations to be precise – even more of both than Madrid, the nation's capital and biggest city! In Europe, BCN comes in 10th highest for both the number of airlines and destinations. So we're not exactly stuck for choice here when it comes to international travel. Sometimes though it feels like making it to BCN from the Costa Brava is as much a part of the journey as the actual flight.
To drive or not to drive
The quickest way to get to BCN Airport from the Costa Brava is to take a taxi – if you're prepared to pay for it! The suggested price from the Costa Brava centre towns of Calonge-Sant Antoni or Palamós, for example, is €200-220, depending on whether you're travelling by day or by night. Prices for towns further north will be somewhat higher and further south should cost you a bit less. If you don't want to get a cab the next fastest way is to drive yourself in your own car. Driving is handy if you have a lot of luggage and it's faster in the sense that you leave from your home and drive to the airport. The main issue with driving is the parking, both in terms of cost and how far from the airport you end up parking, and then how much extra time you need to allow to actually reach your terminal.
Parking
There are 12,000 parking spaces at Terminal 1 and another 8,600 at Terminal 2. If you choose to leave your car in either of these airport parking lots the cost is €25 per day for the first 4 days if you don't reserve in advance. If you do book ahead it reduces the cost considerably and if you set up an account during the course of the booking it gives you a further discount. It's a bit too detailed to go into at length here but you can work out how much your airport parking will cost you at any of the airports in Spain by entering your dates and times on the Aena Parking website. In the case of BCN, it helps if you know your terminal as there as more options for T1 than there are for T2.
That's certainly the most convenient way to drive and park, but it is also the most expensive. If you must bring your car but shudder at the thought of forking out that much for parking, then you could consider aparca&go long-term parking. At BCN Airport the charges are €9 per 24 hours for the first 4 days and then €5 per day thereafter. It's a lot cheaper than the regular parking at the terminal but you need to allow a little bit more time to allow for the transfer to the terminal building. They claim to be 4-5 minutes away but in reality that's the actual driving time; you also need to factor in a few more minutes in the ticket office while you leave your car with them before hopping on the shuttle run to the terminal. You can opt for the "fast lane" where you can skip the office by booking in advance and receiving a barcode that you scan on entering the car park and again on leaving – provided you've paid up online. That's what they call their "Express" service. They also offer a "Premium" service where you can drive right up to the terminal yourself and a valet will take your car from there, with advance booking of course. There is also an option to add on a professional car wash and they can even take care of your ITV too while you're away! All the info is available on their website in Catalan, Spanish, French and English. (aparca&go also offer a similar service at Barcelona-Sants railway station by the way.)
Another long-term parking option for both terminals is parking10.com. The exact price you will pay depends on your dates and, although their website is only in Spanish and Catalan, it's pretty easy to use. They also offer the clean your car while you're away, either inside (€15) or outside (10), or both for (€25) and they also offer an ITV service.
The alternatives
If you are going to be away for a while leaving your car at the airport could end up costing you as much, or more, than what you paid for your flights! There are alternatives to driving though, depending on where you are coming from.
Hop on the bus, Gus!
There are coach services with the Alsa and Sagalès bus companies between BCN Airport and the cities of Figueres and Girona, but if you want to get to the towns of La Costa Brava the Sarfa bus company pretty much has a monopoly on the route. They operate three services covering this coast, the first of which runs from the airport to the town of Tossa de Mar, via Lloret de Mar. During the summer, there are 15 services daily to Lloret, 10 of which continue on to Tossa. The fare to Lloret is €13.15 and to Tossa, €14.50. After the peak tourist season, the service is scaled back considerably.
The 'Costa Brava Nord' route runs from the airport along the motorway, skipping most of the coastal towns until it stops to serve Empuriabrava, Roses and Cadaqués. This service is pretty sparse though with only one daily service year-round, increasing to a whopping two services in summer! The full route from the airport to Cadaqués, or vice versa, costs €27 and takes a bit over 3 hours.
The main route operated by Sarfa from El Prat airport serves 'La Costa Brava Centre' and serves the towns of Sta Cristina d'Aro, St. Feliu de Guíxols, S'Agaró, Platja d'Aro, St. Antoni de Calonge, Palamós, Mont-ras and Palafrugell. There are 9 services daily from the airport in summertime, with some buses also stopping in Caldes de Malavella before Sta. Cristina. Some buses serve the same route but only from Barcelona city (Estació del Nord) and not the airport. Of the nine services from the airport, two continue one stop further after Palafrugell to La Bisbal. In summer there is a separate service to L'Escala, three times a day, with stops in Begur, Pals and Torroella de Montgrí en route. From 1 September the schedules change and some of the Costa Brava Centre buses continue to L'Escala. The fare between the airport and Sta. Cristina is €15.60 gradually increasing as you get further away to €18.85 by the time it reaches Palafrugell, or €22.10 if your origin or destination is L'Escala.
You can consult the Sarfa website to check timetables and purchase tickets in advance of your journey.
Train
There is no railway line on the Costa Brava anymore, although some towns used to have a train service in the past. However, the train could still be worth considering for getting to BCN airport, depending on where you are departing from.
About 18km south of Girona city is the town of Caldes de Malavella with its railway line that runs from Portbou at the French border all the way down to Barcelona Sants. There are no services from Caldes direct to Barcelona airport, but it can still be a useful option – especially if your flight is into or out of T2. To give a few examples, Caldes train station is about a 35-minute drive from the towns of St. Feliu de Guíxols, Platja d'Aro or Calonge, 40 minutes from Palamós and about an hour from Palafrugell. There is free parking at Caldes train station, and you can leave your car there for extended periods.
Commuter trains are known as Rodalies and all R11 trains from Caldes de Malavella terminate in Barcelona Sants, from where you can catch the R2 line to Terminal 2 in El Prat airport – although a handy little tip is to get off the R11 train at the stop just before Sants, Passeig de Gracia, and catch the airport train from there. In Sants you will almost certainly have to disembark from your train, take an escalator up to ground level and find out which track the R2 to the airport is leaving from and take an escalator back down to another platform. The advantage of Passeig de Gracia is that there is only one platform each way, so you get off your train from Caldes and just wait right there for the R2 airport train. Easy peasy! Journey time from Caldes takes from about 70 to 80 minutes depending on which train you get as some trains make all the stops to Barcelona but the majority stop in only three or four stations before Passeig de Gracia. The train from Passeig de Gracia to the airport takes just under half an hour.
So, what to do…?
As with everything, there are pros and cons when deciding how to get to the airport.
Taxis aside, going by car is probably quickest if you're happy to pay for parking while you are away – although if you are using the long-term car park it might not end up being a whole lot faster than public transport when you factor in the extra time to get from your car to the terminal building. If you are leaving but not coming back (although we can't imagine why anyone would want to do that!) then you'll probably want to consider the public transport options.
The bus might not be everyone's favourite means of travel, but it certainly is easy. You hop on at your closest bus stop and hop off at your terminal building (the bus stops at both terminals). The ticket prices might seem a little high when you consider that you could travel from Girona to Lyon for the same price (!), but at least you're not paying for parking while you're away. Tickets can be purchased either from the driver or a ticket machine at any stop where there is no bus station, and most buses now have machines on board to allow you to pay by bank card rather than cash only. In summertime buses are especially frequent, operating on an almost hourly basis, cutting down on waiting time.
The train is generally a preferable mode of transport to the bus if you don't mind making your way to Caldes de Malavella and the cost is about a third cheaper than the bus (the cost varies slightly depending on which train you take). This can be a good option if you have bulky luggage but don't want to pay for parking the car at the airport as you can drive to Caldes station, leave the car and let the train take you the rest of the way. (Don't forget to change trains in Passeig de Gracia rather than Sants to make your transfer a bit easier!) If your flight is from T1 you'll have to allow for the (free) shuttle transfer from T2.
BlaBlaCar
One other option that is definitely worth considering, if you don't mind travelling by car with strangers, is BlaBlaCar. How this works is you get onto the blablacar website and enter where you are travelling from and the time and date you wish to travel to the airport (or anywhere) and see if there is someone who will be driving there that can offer you a lift for a fee. The advantage of BlaBlaCar is that it is pretty economical and you can often arrange the journey from door to door. The downside is that you may or may not find someone doing the journey you want when you want. Because there is no need to purchase bus or train tickets in advance, you can always wait till the last moment and keep checking BlaBlaCar to see if a lift turns up and, in the event that it doesn't, still take the bus or train.
Girona-Costa Brava Airport
Despite its name, there is not a fantastic public transport connection between Girona Airport and the Costa Brava that it's supposed to serve. From precisely the 1st of July to the 31st of August (inclusive), Sarfa operates a mere 2 services daily to the towns along the coast – or some of them anyway! If you are travelling before or after those dates and want to use public transport you will have to take a Sagalès bus from Girona Airport to Girona city and then another bus with another company from there to the coast. The different companies don't coordinate their schedules so you may or may not be lucky with connections. When this is factored in it sometimes works out simpler, even in the height of summer, to just use BCN airport instead when choosing your flights!
We hope this has been of some help to all of you travellers out there.
Bon voyage!