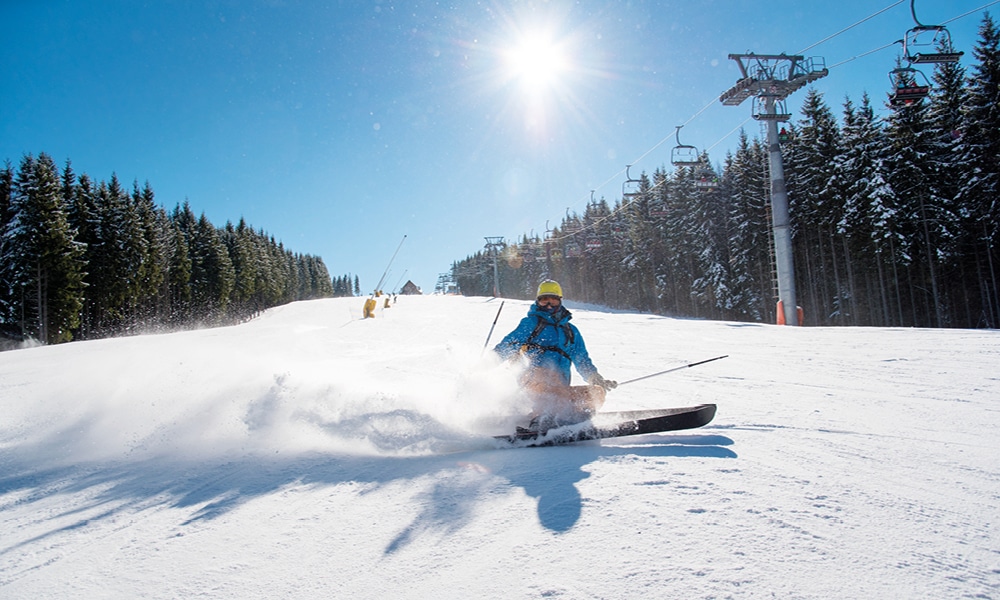 As if life here wasn't great enough already with the beautiful summers on the Mediterranean Sea, the gorgeous local cuisine and wine, medieval villages, and the wonderful cities of Girona and Barcelona on our doorstep.. we are also blessed with the ski resorts of the Pyrenees within a couple of hours drive of the Costa Brava.
The Pyrenees more or less form a natural border between France and Spain, running as they do from Cap Higuer on the Bay of Biscay to Cap de Creus on the Mediterranean coast. In between, there are 126 peaks of over 3000m making the Pyrenees ideal for all sorts of winter sports, skiing being, of course, the most popular.
Recreational skiing first occurred in the Pyrenees in 1901 on the French side of the Pyrénées-Orientales (Eastern Pyrenees) and traditionally the ski resorts on the French side were the better-known and more popular. But this has changed over the years with resorts being developed on the Spanish side too. In fact, there are so many resorts nowadays that it would be impossible to include even just all the Spanish ones here, not to mention those in France and Andorra, so for the purposes of this blog, we will be focussing on the four closest resorts in the province of Girona, as well as one other in neighbouring Lleida.
Two of the main advantages of skiing this side of the Pyrenean mountain range are that it is significantly less expensive and typically far less crowded. The ski season runs from November to April, with the peak season months being January and February, and early March if snow is still plentiful. The best month is usually February as conditions are usually at their best and the hours of daylight are lengthening and there is more public transport to many resorts than in the preceding months too. For people coming from other countries to ski here package deals can often work out being their best option, but for those of us based on the Costa Brava, we have no need for packages as it is possible to even go on skiing day trips from here!
Vallter 2000
As the eagle flies, this is the closest ski station to the coast and the most easterly in the Pyrenees and is so named because it is situated 2000m above the Ter river valley, offering superb vistas, even all the way to Cap de Creus and the Bay of Roses on a clear day. Using Palamós, for example, as a starting point, Vallter 2000 can be reached in less than 2.5 hours by car making it an ideal day trip. In fact, there is no accommodation at the station itself, so a day trip might be the best option here, although many skiers do stay in the nearby towns of Setcases or Camprodon. Vallter is very popular with intermediate skiers and also offers other activities including snowshoeing and snowboarding.
Vall de Núria
Flying further westward and inland with our eagle, the next resort is Vall de Núria – and, in a perfect world, taking an eagle to get there would be fantastic as there is no vehicular access. Instead, there is a rack railway (cremallera) from Ribes de Freser (2hrs drive from Palamós) that is well worth the journey in its own right as the views on the way up are nothing short of spectacular (especially if you sit on the right side going up, hint, hint!). At the top, the resort is mostly contained in one very long and large building located right beside an ancient church, which is worth a visit too. Vall de Núria is a very family-oriented resort with lots of activities for kids – lots of kids! – and even a playpark. On the plus side, the fact that access is by the cremallera means numbers are limited and it prevents overcrowding.
La Molina
La Molina is the oldest ski resort and is quite a bit bigger than the other two. There are more public transport options too, due to its popularity, or 2.5 hours driving will get you there if you prefer to bring the car. There is over 60km of piste here and all levels from beginners to experts are catered for, so it's perfect for a group of mixed abilities. There are hundreds of ski instructors, including some who specialise in facilitating skiing for people with some physical disabilities, and also those with mental health issues, so this really is a ski resort for everyone. And apart from downhill skiing, there is also Nordic skiing, snowshoeing, snowboarding, ice-skating, snowmobiling, bowling, and so on – you get the idea! And of course, there's the après ski too! 🥴
La Masella
As La Masella is only 10 minutes drive from La Molina you could consider taking both these resorts together on the same trip. In fact, there is a pass available (the ALP2500) that covers both resorts and as La Masella also has over 60 slopes covering 78km (more than any other Pyrenean resort) you'll be spoilt for choice. The focus here is mostly skiing and snowboarding and on weekends and holidays, there is even night-skiing, made possible by floodlighting.
Baqueira-Beret
Our final resort is a good bit further away than the others at almost a five-hour drive from the centre of La Costa Brava but we've included it as it is a little bit special. Considered by most to be the best ski resort in the Pyrenees, either side of the border, and by some to be the best in all of Europe, Baqueira-Beret is found in the Val d'Aran in the province of Lleida. Opened in 1964, it is Spain's biggest and most popular resort, and although it wouldn't be as economical as the other resorts we have mentioned, prices on average would be less than half of those in an equivalent resort in the Alps. Because of its snow reliability, the season here usually runs through the end of April. There are pistes of all levels for skiers and snowboarders and the après ski is considered the best in Catalunya. You can even go heli-skiing! The Spanish royal family have a lodge here too – but don't let that put you off!
So, if you're at a bit of a loss for what to do with yourself while waiting for the warm weather to come back, why not head for the hills and try your hand (feet?) at skiing? Early in the New Year is the perfect time to give it a go. There is public transport to most of the resorts, but this can vary according to the day of the week or weather conditions so it's best to always consult timetables once you've decided when you'd like to go.
Happy skiing!!