"The Dalinian Triangle is the geometrical figure that would appear on a map of Catalonia if we were to draw a line between the municipalities of Púbol, Portlligat and Figueres. These three localities recount for us the trajectory of an internationally renowned artist who was nevertheless entirely linked to this territory.
This space, concentrated in a territory of scarcely 40 square kilometres, contains the elements that make up the Dalinian universe: its museums, landscape, light, architecture, relief, customs, legends, gastronomy, etc., essential for understanding the life and work of Salvador Dalí. A concept at once tangible and mythical, the Dalinian Triangle allows an exploration of the universe of Dalí and serves as a gateway to a multiple universes of subjective sensations and experiences for those who visit it."
If you have been spending just about every waking minute of your time on the beach and feel the urge for a bit of culture, the Salvador Dalí museums in Figueres, Portlligat (Cadaqués) and Púbol are just the ticket! But who was Salvador Dalí, and why is he so well-known internationally as well as in Catalunya, and of course especially here in the Empordà?
Early life and times
Salvador Domingo Felipe Jacinto Dalí i Domènech (to give him his full name) was born in Figueres on 11 May 1904 to Salvador Dalí Cusí and his wife Felipa Domènech Ferrés. He was given the necronym of his older brother Salvador, who had died nine months previously. They certainly were fond of the name Salvador in that family! Throughout his life, Dalí felt haunted by the idea of his departed brother, so being named for him probably didn't help much in that regard! He also had a sister three years his junior named Anna-Maria, and the family used to holiday in Cadaqués.
He went to a Hispano-French primary school in Figueres and so at a young age learned French, "the language that was to become his cultural vehicle". When he was 16 years old his mother died of cancer and this came as a great blow to young Salvador, although he had no problem accepting his father's subsequent marriage to his aunt Caterina, his mother's sister, as he also had great affection for her.
Student life
In 1922, at the age of 18, Dalí moved to Madrid to study at the Real Academia de Bellas Artes de San Fernando (San Fernando Royal Academy of Fine Arts) and quickly gained a reputation for himself as an eccentric and a dandy. The following year he was expelled for being involved in, and allegedly leading, a student protest, but in the autumn of 1924 he returned once again to the academy and was obliged to repeat the previous academic year. He then took a year out during the academic year of 1925/26 and began exhibiting his works in Madrid and also had his first solo exhibition in Barcelona in November 1925.
In March 1926 he paid his first visit to Paris, where he met Pablo Picasso, who influenced him greatly – although the relationship between the two soured in later years, (more on which a little later). Later the same year he was again expelled from the Real Academia, this time for good, after he declared that they were not sufficiently competent to examine him!
International man
In the following few years Dalí exhibited his work again in Barcelona, and elsewhere, completed his military service in Figueres, travelled again to Paris and spent time in Cadaqués, where, in the summer of 1929, he met Elena Ivanovna Diakonova, originally from Kazan in Russia, to whom he gave the affectionate nickname "Gala". At the time Gala was married and had a daughter named Cécile, but she separated from her husband and from that time on, remained involved with Dalí until the end of her life.
Dalí's relationship with the Russian divorcée almost cost him his relationship with his father, who at one stage threatened to disinherit him and forbade him to use the family holiday home in Cadaqués – so he rented a house in nearby Port Lligat instead, which he subsequently bought and enlarged over the years. Although the couple spent much time in Paris, New York, Los Angeles, London and the Côte d'Azur during the 1930s, Dalí's home base was always Port Lligat.
Politics
Although Dalí started out claiming to be communist, anti-church and anti-monarchy, when the Spanish Civil War broke out in 1936 he refused to declare publicly for either side and remained "neutral" throughout the conflict. At the end of the war in 1939, however, he announced his support for the victorious fascist regime of Franco and was immediately expelled from the left-leaning Surrealist artistic movement he had been involved in since 1929. He met with Franco on a number of occasions over the years and publicly supported the monarchy.
When the Germans invaded France at the start of WWII the Dalí's were in Bordeaux but managed to escape to Lisbon and from there sailed to New York. They spent most of the next decade living between New York and California, touring the U.S. extensively. Their return to live in Franco's Spain and his public support for the regime caused outrage amongst many exiled anti-fascist artists and intellectuals, including Pablo Picasso, who refused to mention Dalí's name or acknowledge his existence for the rest of his life.
He also had a family dispute which caused the breakdown of the relationships between himself and his father and sister. When his father died in 1950 Salvador Dalí Jnr. discovered he had been disinherited.
The Museums
Figueres
In 1960 Dalí began work on his Teatre-Museu Dalí in his home town of Figueres. Over the next decade and a half he focused most of his energy on this project and even after it opened in 1974 he continued to add to it over the following ten years. Today, this is the most renowned of the Dalí museus and receives well over one million visitors annually.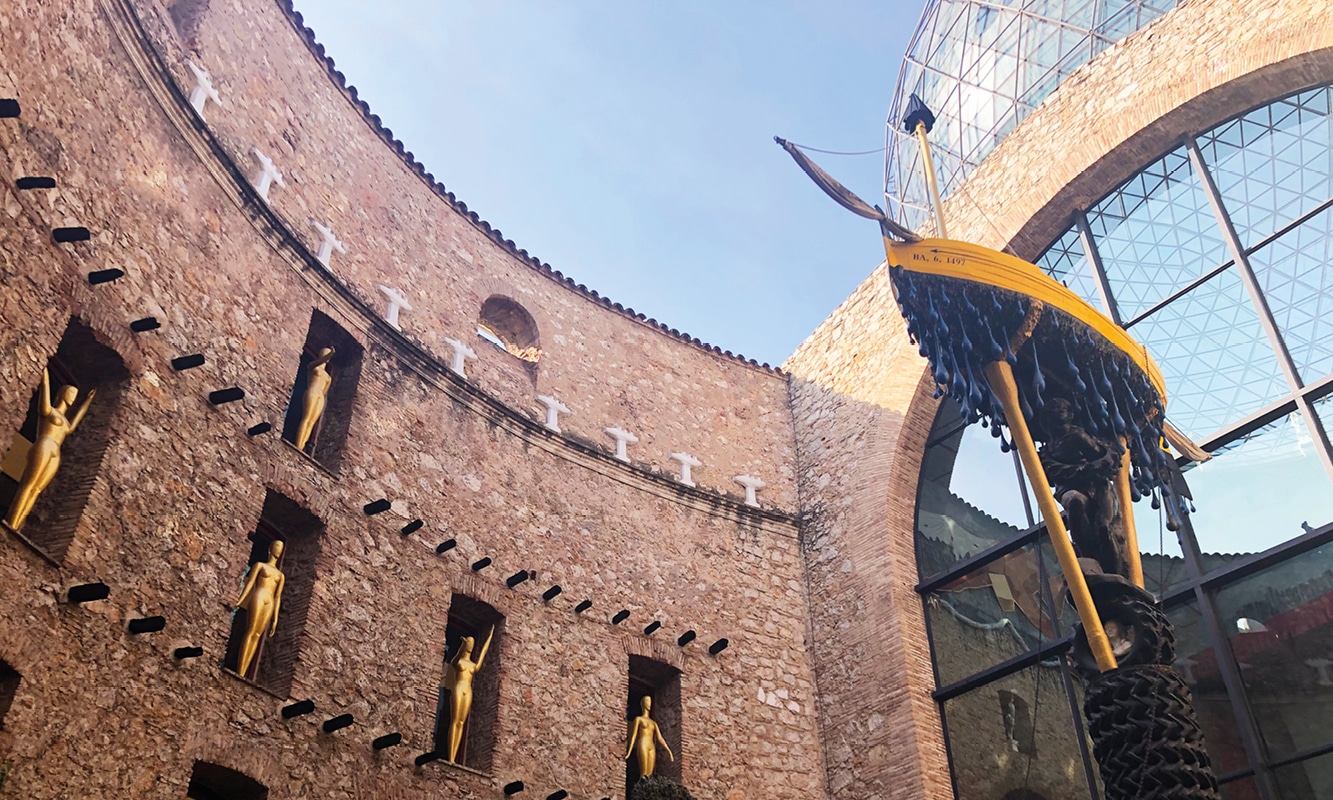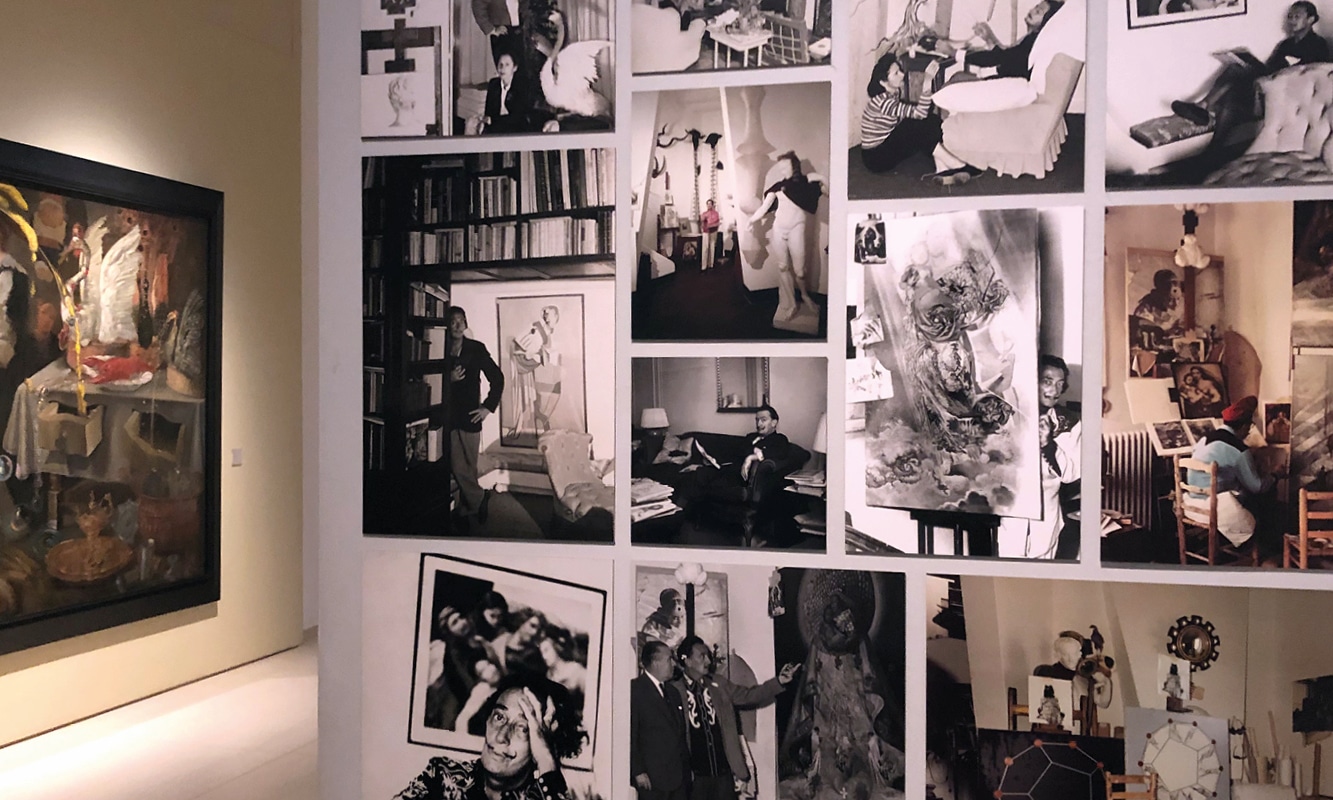 Púbol
In 1968/9 Dalí purchased and restored a mostly dilapidated castle in the medieval village of Púbol for his wife Gala, with an agreement between the two that he would have to request permission, often in writing, to come and visit her during the summers when she would often retreat there for weeks or months at a time. The fact that the castle was in poor shape when they bought it meant the couple could carry out the restoration very much according to their own taste.
"I give you a Gothic castle Gala"
"I accept on one condition, that you only come to visit me in the castle by invitation."
"I accept, since I accept in principle all on condition there are conditions. It is the same principle of courtly love."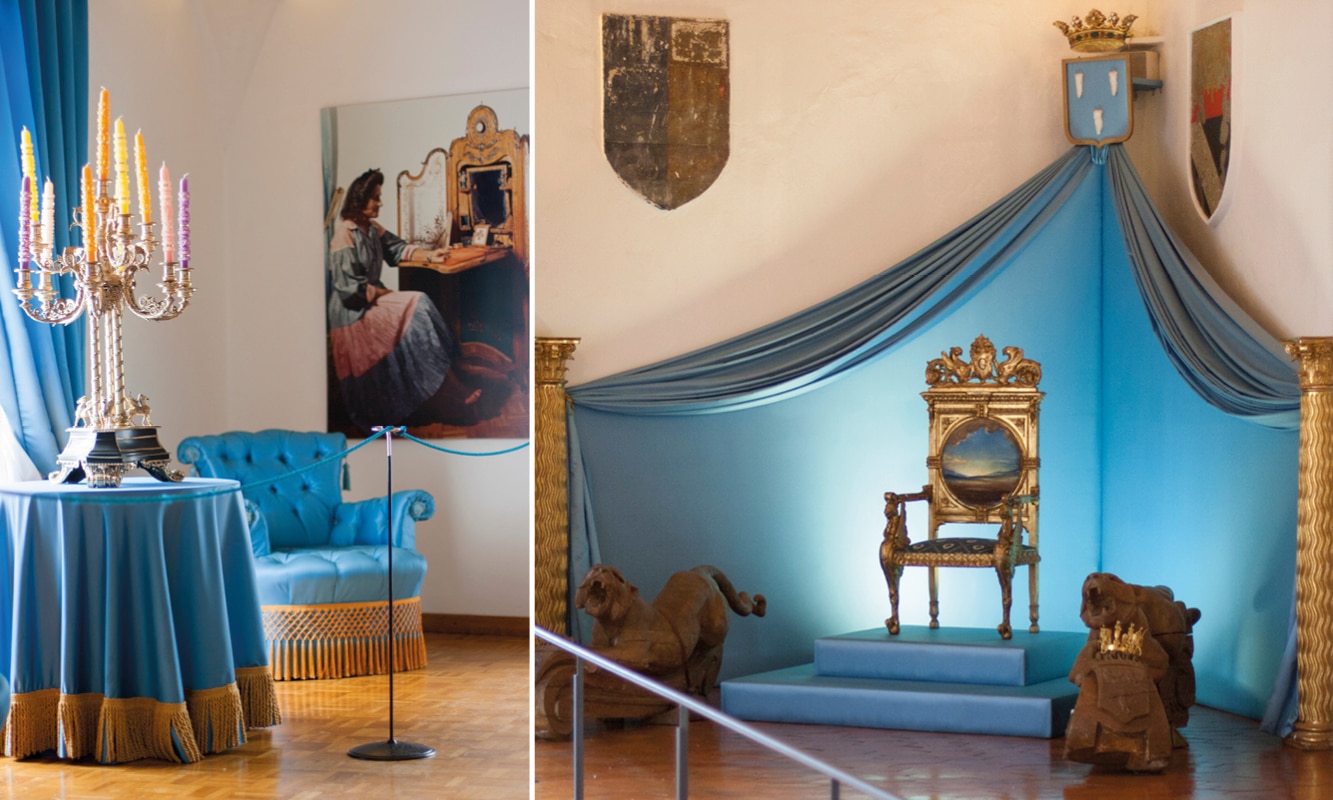 Gala died in 1982 and was buried in the castle and Dalí moved there from Port Lligat and was granted the title Marqués de Dalí de Púbol by King Juan Carlos. He lived at the castle until a fire there in 1984, in which he received severe burns, caused him to move to Figueres. He took up residence right next to his Teatre-Museu in the Torre Gorgot, a 17th century tower that had been part of the old city walls. He renamed the tower Torre Galatea in memory of his beloved departed and during his last few years he left his own mark on it, and was himself buried there upon his own death in 1989. In 1996 the castle in Púbol opened to the public as the Castell Gala-Dalí de Púbol.
Cadaques
Although Dalí moved around a lot over the course of his life, the fisherman's shack that he renovated and added to over the years in Port Lligat, just outside Cadaqués, was his only fixed address ever since he originally purchased it in the early 1930s. The Casa-Museu Salvador Dalí, as it is known today, is, in fact, an amalgamation of six former fishing huts that the artist bought at different stages and converted into the building we see today. The beautiful natural setting and the picturesque adjacent town of Cadaqués are worth the visit in their own right, so taken altogether it makes for a perfect weekend break.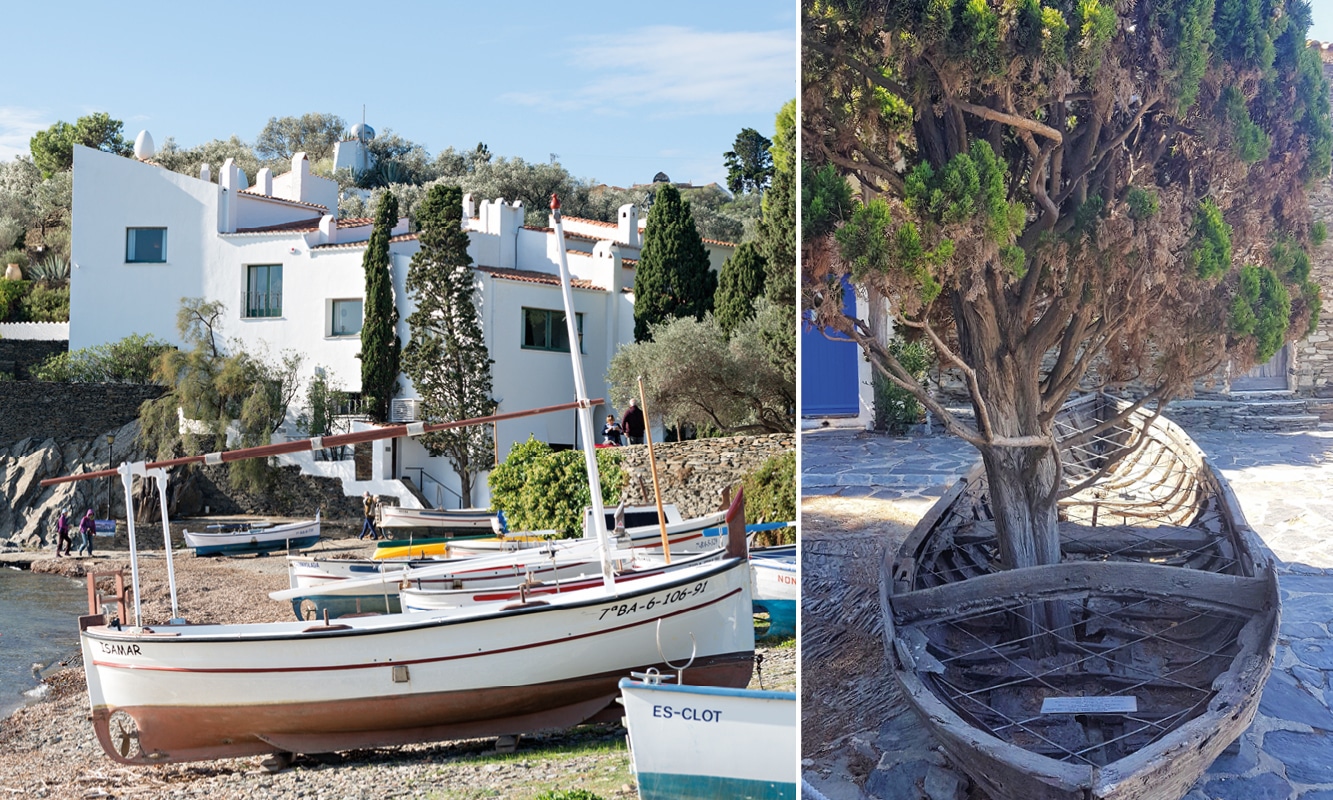 And the art?
You'll have noticed by now that we haven't gone into any detail about the man's art. Well, we figured that we'd leave that part to you! Entire books have been written about the works of Dalí so to try and do them any justice here would be an exercise in futility.
We recommend visiting some, or all, of the museums to see for yourself, but it is always advisable to purchase your tickets in advance of your visit. With all three museums in the "triangle" right on our doorstep here on the Costa Brava, it'd be a pity not to!