Have you ever wondered why our stretch of the Costa Brava doesn't have a train service? Did you know that it once did? For almost 70 years, between 1887 and 1956, there was a train linking the port of Palamós with the interior, eventually making its way to Girona.
The railway in the early days
The service began in 1887 on a 33km section from Palamós to Flaça, with a further 16km being added in 1921 from Flaça to Pont Major and from there on to Girona. Seven years later an additional 14km spur from Pont Major to the lake town of Banyoles was added, making it 63km of track in total.
This railway operated successfully until the Spanish Civil War (1936-39), during which many of its stations and bridges were destroyed. In 1941 a study was carried out to look into modernising the line, including possibly building a broad-gauge line between Palamós and Flaça, but the Spanish state didn't have any real interest in the project and instead started taking steps to begin closing the railway line altogether. There was much local opposition to the closure from the towns along the route but, sadly, and despite their best efforts, the last journey on the line took place on 1 March 1956.
Vía Verde
While today it might seem a shame that the railway no longer exists, there is a 6km stretch of the original line that we can still enjoy today as a vía verde (greenway) between Palamós and Palafrugell. This vía verde is known as "La Ruta del Tren Petit" (the route of the little train) and is part of a larger designated cycling route called the Pirinexus that runs from Sant Feliu de Guíxols north through the Baix and Alt Empordà comarcas (counties), and continues across the border into France before "hanging a left" into some gorgeous Pyrenean countryside and crossing back into Spain, taking in the towns of Ripoll, Olot and Girona and eventually finishing back in Sant Feliu de Guíxols to close the circuit. Although it is a designated cycle route, at only 6km long, the Ruta del Tren Petit from Palamós to Palafrugell is also ideal for a beautiful afternoon walk in the countryside. Being a former railway it is characterised by gentle curves and flat terrain so fitness levels are not an issue.
Franco-Spanish cooperation
Since January 2013, the Costa Brava has been better connected with the rest of Europe than ever before thanks to the AVE/TGV (high-speed train) services that operate out of Girona and Figueres. Before then train travel from Girona to France and beyond involved a change of trains at the border from the Spanish to the French rail network. This was not helped by the fact that the Spanish and French railways did not coordinate their schedules so the connection often meant a long stopover in some small border town. Spain had always operated its railways on a different gauge to the rest of Europe and so a change of trains at the border was always necessary. One alleged reason for the use of a different gauge was to make any potential land invasion of Spain by the French (or anyone else for that matter) more difficult, but this is most likely a bit of an urban myth. Since the early 1990s new high-speed passenger lines in Spain have been built to the international standard gauge to allow these lines to link to the European high-speed network, but there were many delays over the years on the section of the line between Barcelona and France, mainly in building the new station at Figueres-Vilafant as well as a 4km tunnel in Girona. Eventually, the line was opened on 8 January 2013 – a few years later than originally planned, but better late than never! The Spanish rail company, RENFE, and their French counterparts, the SNCF, then entered into a partnership on routes linking cities of Paris, Lyon, Marseille and Toulouse with Barcelona, with all trains also serving Figueres-Vilafant and Girona, and some continuing on, via Tarragona and Zaragoza, to Madrid.
Franco-Spanish – and Italian – competition!
For a long time the Spanish railway operator, RENFE, had a monopoly on passenger rail travel within Spain. Well, those days are now in the past! Following a decision to deregulate the Spanish market and to allow competition from within the EU, the French operator, SNCF, and the Italian carrier, TrenItalia, announced that they would enter the market and compete with RENFE. Ouigo (a subsidiary of SNCF) began operating on the Barcelona-Madrid line in May 2021 and, as a result, the SNCF announced in early 2022 that it would no longer work in partnership with RENFE on the Franco-Spanish routes mentioned above once the current contract expired at the end of 2022. It cited the cost-effectiveness of the partnership as another reason but did say that cooperating on the international routes while at the same time going into direct competition on domestic Spanish routes would prove to be too problematic. Nonetheless, RENFE has stated that they intend to resume operating on the Madrid-Barcelona-Marseille and Barcelona-Lyon routes – which had ceased operation during the Covid pandemic – before summer of 2023, so the future is still bright for rail travellers. The direct Barcelona-Toulouse route was also suspended and, as yet, has not returned.
If you're a real train buff you can find more detailed information on this website about routes and even types of train each of the operators use.
OUIGO
OUIGO is the low-cost subsidiary of the SNCF and has been operating a Barcelona-Madrid service since May 2021 with double-decker TGV (Trains à Grande Vitesse = high speed trains) with slightly less legroom and with less frills than the AVE (Alta Velocidad Española) service run by RENFE. It does have a bar car though and two classes of service, unlike Ouigo services within France itself. The greater passenger capacity resulting from less legroom means lower fares, starting from just €9 between Barcelona and Madrid, with some services being non-stop and others also serving Tarragona and Zaragoza. As of October 2022 they also connect and they have plans to extend their network to eventually include the cities of Córdoba, Sevilla, Málaga and Alicante as well.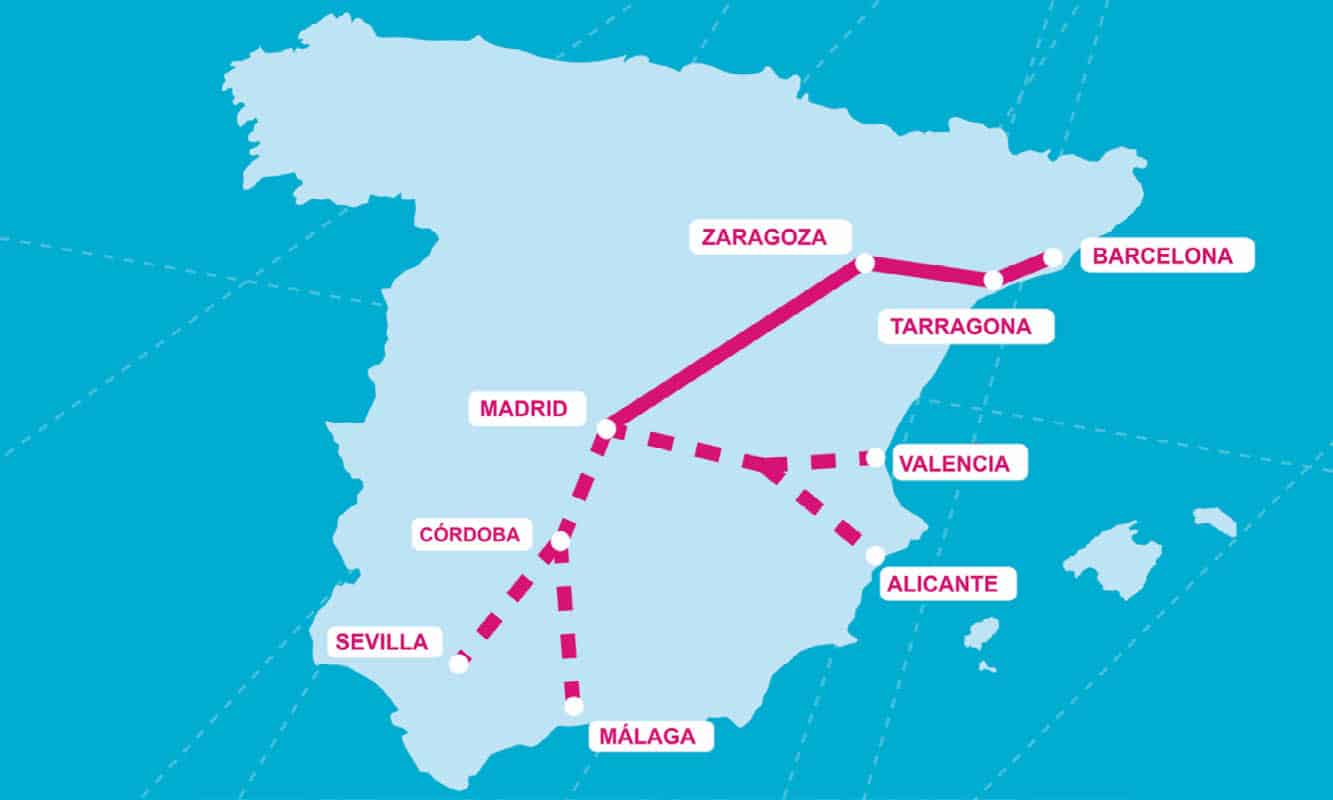 AVLO
In response, RENFE launched their own low-cost equivalent from June 2021 with fares starting at €5 on the same route. Their brand name AVLO is derived from AVE + Low (cost) and has only one service class and no bar cars but rather vending machines. One AVLO service per day also serves Figueres-Vilafant and Girona, which is handy for Costa Brava dwellers!
There are plans to extend these low-cost, high-speed services to cities including Valencia and Alicante and later Sevilla and Málaga, with more destinations to be added further down the line.
IRYO
A TrenItalia/Air Nostrum consortium under the name IRYO also began operating services on the same Barcelona-Tarragona-Zaragoza-Madrid route in November 2022. They will also have trains running between Madrid and Alicante/Valencia and Sevilla/Málaga in early 2023, and have plans to further expand their network of destinations in the future. Should be interesting!
Whether you travel on OUIGO, AVLO, or IRYO, the best fares are snapped up by those who book well in advance and – as with low-cost airlines – by those who have a greater degree of flexibility. Similarly, oversized luggage, more legroom, electric sockets, Wi-Fi, or other extras will cost a bit more. On OUIGO you can book "silent carriages" for a little extra if you don't to be bothered by annoying kids (or by annoying adults!) – with electric socket included!
AVE / TGV
The original AVE and TGV services haven't gone away though, don't forget, and tickets for those trains can be booked as always on the RENFE or SNCF websites, and though they're not "low-cost" per se, tickets are still best purchased online to avail of the best fares and, as with airfares, the longer in advance you book the and the more flexible you can be with dates and times, the cheaper the fare you will probably find. Despite the advent of the "no frills" services, there are often flash promotions on the RENFE and SNCF services and you can sometimes still get excellent fares without having to sacrifice on your creature comforts. Basically, it's worth checking all the websites and also signing up for alerts or newsletters so you never miss a special offer. ("Yours truly" recently scored Girona to Paris tickets for €50 return on the regular RENFE website!)
A couple of user-friendly independent websites that are pretty useful for searching for routes and tickets are Trainline and RailEurope, while another site, Money Saver, has a few more suggestions on how to get the best fares.
So where can we go?
Internationally, there are daily direct trains from Madrid and Barcelona (serving Girona and Figueres) to Paris, with routes to Lyon and Marseille resuming by mid-2023 or sooner, having been suspended for a time as a result of the Covid-19 pandemic. The number of services per day increases during the summertime.
Paris (Gare de Lyon) can be reached from Girona in just under 6 hours now with fares starting at just €39 if you book online in advance. Marseille from Girona is just under 4.5 hours with fares from €49, with Montpellier on the same line taking just 2.5 hours to reach.
But it's not only all about France! Other cities we can reach by train in a single day from Girona include Brussels (with a connection in either Lyon or Paris); Amsterdam, Luxembourg, Cologne and Frankfurt (via Paris); Geneva and Zurich (via Lyon), to name but a few!
So, we now have the rest of the European continent within easy and comfortable reach of Girona and Figueres. Now if only they could just sort out some speedier public transport between the towns along the Costa Brava and Girona… But that's a discussion for another day!
P.S.
In 2021, the European Year of Rail, a proposal to introduce a tram/light-rail service with a circular route from Girona train station to the Costa Brava that would serve the section of the coast between Palamós and Sant Feliu de Guíxols. During 2022 a feasibility study was conducted on the proposed route, but it's still early days so we won't get too excited just yet! Let's just watch this space, cross our fingers, and hope it becomes a reality!
P.P.S.
Nowadays people and governments are (finally!) becoming more environmentally aware and conscious of carbon emissions, with air and road travel being two of the worst culprits. As a result there are plans afoot to reintroduce some of the old night train routes that were in operation until a number of years ago. The majority of these became uneconomical due to competition from budget airlines and were discontinued. Given that a rail journey between most European cities would emit between 6 and 10 times less carbon than the same journey by air, this would be a most welcome development. That, plus the fact that rail is such a nicer way to travel!
It will take some time to materialise however, with new rolling stock having to be ordered and complex timetables across multiple countries having to be worked out. For example, a night train between Barcelona and Zurich looks like being a banker for a debut in late 2024, becoming part of an already existing overnight train network known as Nightjet which connects European cities including Berlin, Paris, Vienna, Rome, Budapest and Amsterdam. We're not getting too excited just yet, but a little further down the track (!) the old overnight Paris-Barcelona-Madrid service that ceased operating in 2013 will hopefully resuming some time after that. Bring it on – we can't wait!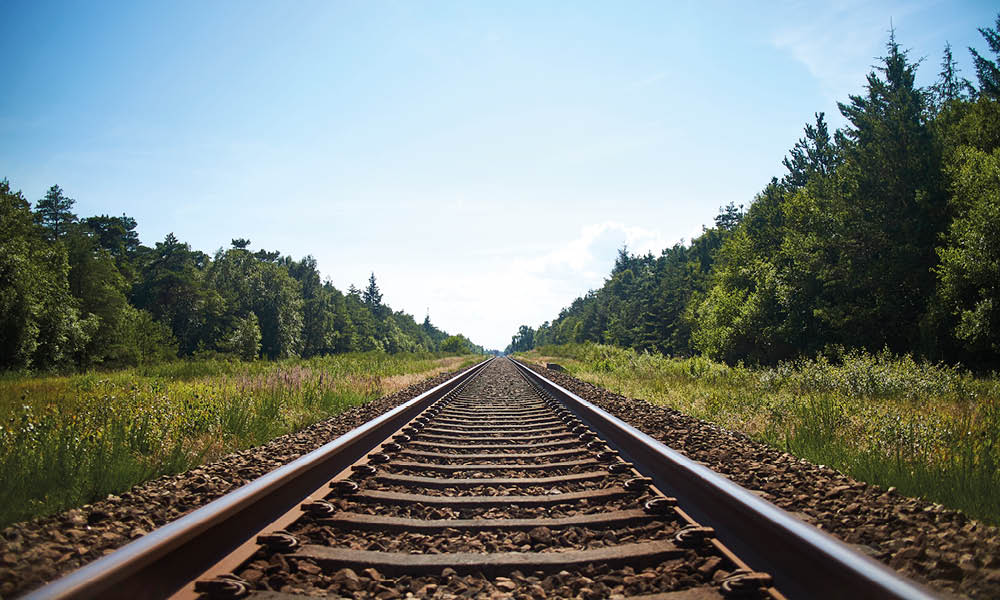 All aboard and let's ride those rails!