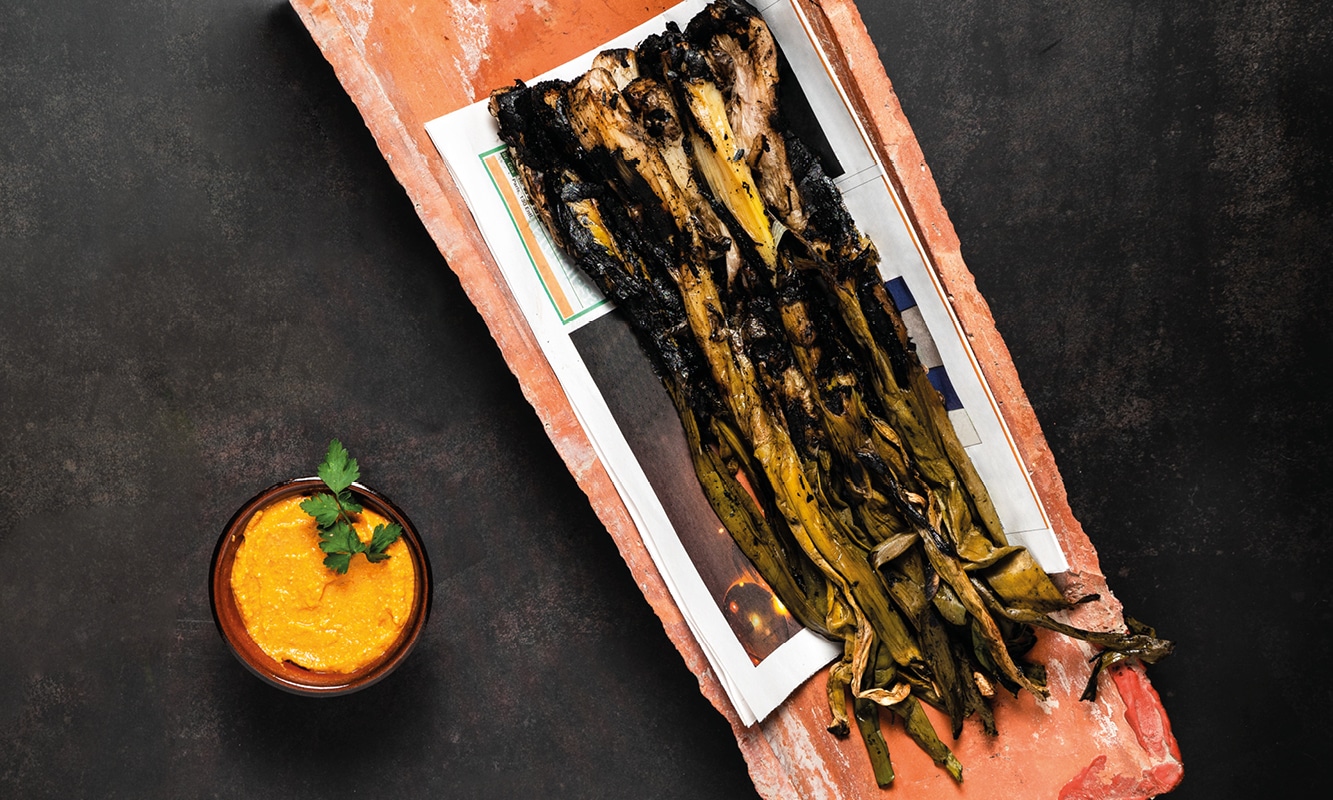 "A calçot is a type of green onion or scallion traditionally eaten between January and March every year in Catalunya. (It's spelt calsot in Castellano Spanish but pronounced the same way.) A calçotada is a traditional gathering of friends for a barbecue with lots of calçots and lots of meat and wine!
"The calçot from Valls (Tarragona) is a registered EU Protected Geographical Indication. (A geographical indication [GI] is a name or sign used on products that correspond to a specific geographical location or origin, for example, a town, region, or country. The use of a geographical indication may act as a certification that the product possesses certain qualities, is made according to traditional methods or enjoys a certain reputation, due to its geographical origin.)"
What's all the fuss about?
Right, so now that we got the explanation out of the way, what's all the fuss about and why do the Catalans go nuts for their calçots??
Calçots are, after all, from the same family as onions, garlic, scallions and leeks, so it may seem a little strange to foreigners to have a whole culinary custom based on a type of green onion! Well, first of all, calçots are milder, almost sweet, compared to what the rest of us might imagine when we think of scallions. They are usually eaten with either a sauce known as salvitxada, (made from almonds, tomatoes, garlic, peppers, vinegar, and oil) or romesco, another similar sauce (made from roasted or raw almonds, pine nuts or hazelnuts, roasted garlic, olive oil, bitxo peppers and/or nyora peppers). Feeling hungry yet?
Prepare to get messy!
When friends gather to eat calçots and party together it is known as a calçotada. The calçots are grilled over the barbecue until charred and then wrapped in newspapers to keep them tender and are typically served on terracotta roof tiles to keep them warm. To eat a calçot you must first peel away the outer layer blackened by the fire to get to the soft white part inside, then dip it in the sauce and then eat it all in one go – so be prepared to get messy!
How to do a calçotada like the Catalans!
Step 1: Prepare your calçots for cooking
Step 2: Gather enough wood and old mattress frame (for example) or something similar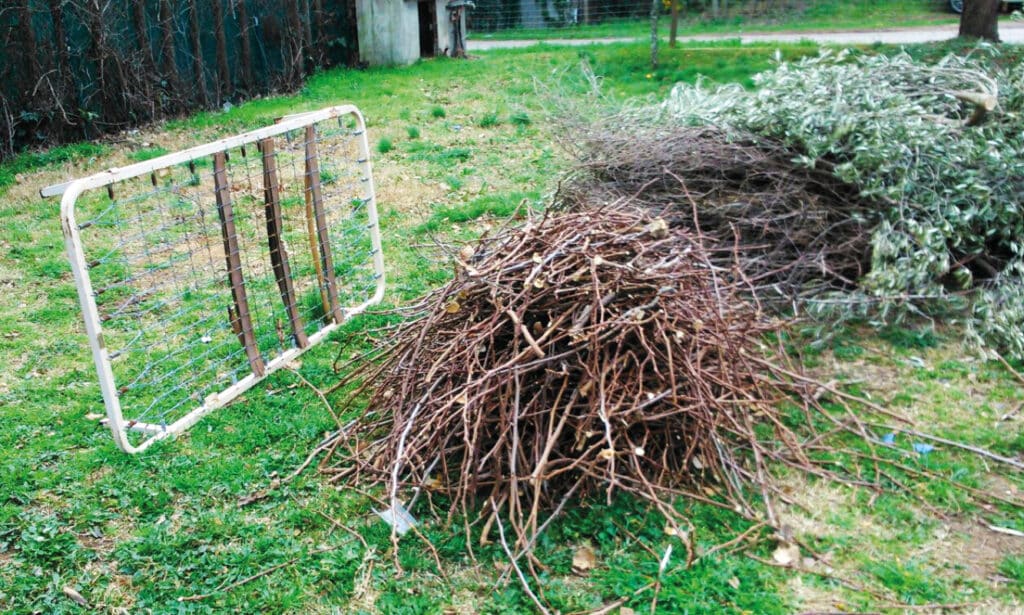 Step 3: A bunch of calçots ready to be thrown on the barbecue
Step 4: Get your fire going
Step 5: Barbecue the calçots over the fire
Step 6: Almost ready to eat: just peel the calçots and dip in Romesco sauce – then down the hatch!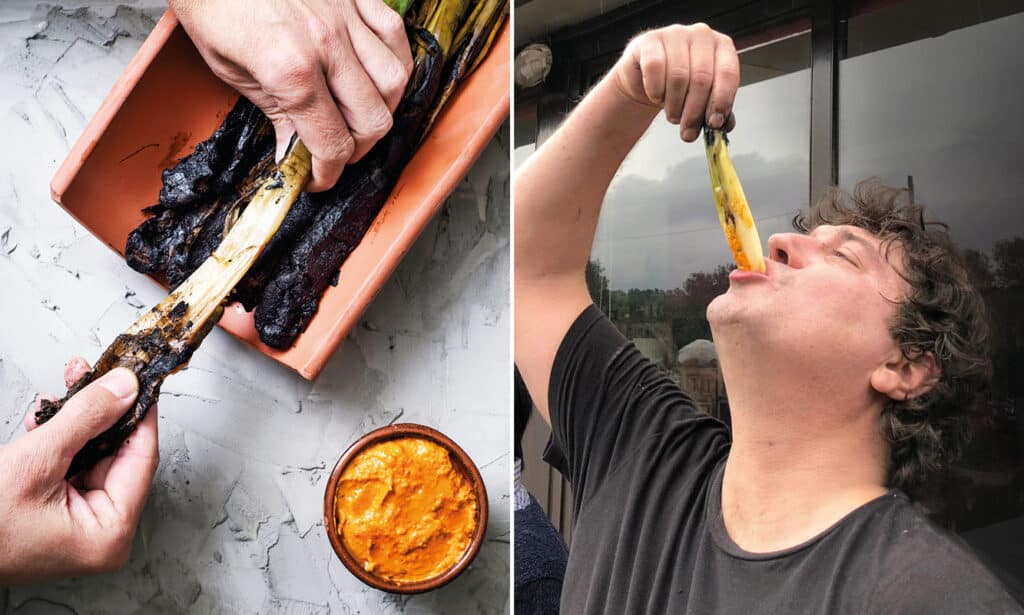 The custom is to first consume copious amounts of calçots before then throwing lots of different types of meat onto the same grill that was just used for the calçots. Types of meat typically include lamb and sausages which, as it happens, also go beautifully with the aforementioned romesco or salvitxada sauces, and are usually eaten with white beans. This is all washed down with plenty of red wine or some local Catalan cava. The more traditional Catalans drink their red wine poured from a height directly into the mouth from a porró, a type of glass pitcher, that, if you're not used to it, means you'll be getting even messier! Bringing a bib with you might not be a bad idea!!
The first calçots
It is not known for sure how the tradition of çalcots began but it is said that it was in Valls that a local farmer named Xat de Benaiges "discovered" calçots pretty much by accident when, at the end of the 1800s, he found a couple of green onions in his garden and chucked them on the fire. The flames blackened the outside of the onions but, rather than discard them, Xat peeled away the outer layers and found the the onions inside has a lovely sweet flavour – the first calçots! Over time he perfected his cultivation technique by covering the green onions with earth as they grew, thus preventing most of the white edible bit from turning into the green inedible part. As the plant continued to grow more soil was continuously added to ensure more edible calçot for the barbecue.
Whether the legend is true or not, what is certainly true is that Valls de Tarragona is where the biggest calçot festival takes place on the last Sunday of January of every year and so this year, (2023) the 41st edition of the Gran Festa de la Calçotada happens on 29 January. "The day will feature a varied program of traditional events, festivities and contests related to calçot: parades, demonstrations of grilled cooking calçots, contests of calçot growers, making calçotada sauce and eating calçots."
Originally calçot-eating season happened in February and March but the custom grew so much in popularity that this was extended to run from November or December, when the calçots first come into season, until March or April.
So where can one find a calçotada around here?
While the calçotada festival of Valls de Tarragona is definitely the big one, there are others too closer to the Costa Brava, in the Province of Barcelona. If even those seem a little too far away, don't worry, there are plenty of restaurants throughout Catalunya that offer calçotada menus as well – you can't miss them! Probably the best calçotadas though tend to be the ones that take place in a friend's back garden, but if you don't know any locals who might invite you, click on the links below to find the closest restaurant to you where you can enjoy an authentic calçotada:
Or try doing it yourself?
Of course, there's nothing to stop you from attempting a calçotada yourself at home if you have a barbecue. Romesco sauce can be found in any supermarket around here but if you want to attempt making it yourself, try this recipe.
Check our food & drink section for more local homemade food.