There are many wonderful things about living on La Costa Brava here in Catalunya. The climate and the affordable cost of living are among the main attractions for northern Europeans, and the food and wine are pretty damn good here too! However, nowhere is absolutely perfect and one drawback for some folk is the lack of choice when it comes to going for a few beers.
The fizzy yellow!
In the past Spain had a pretty poor reputation when it came to beer and, for the most part, justifiably so. The vast majority of all beer produced in the country used to be brewed by just three companies, albeit under various names. Heineken, who already had their own El Äguila breweries, bought the five Cruzcampo breweries owned by Diageo (Guinness) and then were forced by the market regulator to sell two of their own (in Valencia and Madrid) to Damm, who were originally based solely in Barcelona. The third was formed when Mahou of Madrid bought San Miguel from Danone (who owned Kronenbourg) to create the Mahou-San Miguel group.
About 90% of the beer available throughout the country came from one of these three – and it was all pretty much all the same stuff, regardless of the label on the bottle. Your 'classic' Spanish beer was always a pale and not very hoppy type of pilsner lager, which is fine if lager happens to be your beer of preference, but pretty annoying if it's not! Here in Catalunya, Moritz (originally founded in 1856 but bankrupted in 1978) was resurrected in 2004 – only to produce even more of the "fizzy yellow"!
A better version of this 'classic' style of pilsner beer has also been produced on a smaller scale by Estrella Galicia, a family-run brewery founded in A Coruña 1906 by José Maria Rivera. It is still run by the same family to this day under the name of Hijos de Rivera (Sons of Rivera) and their beers are becoming much more widely available throughout Spain in recent years. This company is now brewing a decent variety of styles of beer and of better quality than what most of the bigger breweries produce.
Of your standard Spanish lager or pilsner-style beers, Estrella Galicia and Alhambra (owned by the Mahou-San Miguel group) are probably the best and Cruzcampo and San Miguel probably the worst – but a lot of bars still only have one beer on tap regardless and not many more varieties in bottles so you might find yourself with little choice. What's frustrating is that nearly all the above-mentioned breweries do produce other varieties of beer but due to the prevailing (lack of) beer culture they are not marketed well and are not widely available in bars.
The good stuff
So, blah-blah, enough about the crappy beers of Spain you say, and you'd be right! Let's move on to the good stuff! The great news is that things are improving, even if the pace of change is typically Spanish (read: "a little bit on the slow side")! And the better news is that, despite being more commonly associated with cava, Catalunya is one of the regions leading the, ahem, 'charge'! In 2006 there were only about a dozen craft breweries in Catalunya, but now they number over a hundred and produce over 3 million litres of beer per annum. While this is not even 1% of total beer consumed here, the growth rate over the last 6 years has been over 300% so they're certainly headed in the right direction at least.
If you're on the hunt for some of these tasty beverages you'll find more in the cities of Barcelona and Girona than in smaller towns, as you'd expect, but it's always worth checking in any bar you find yourself in as you just never know where a lovely ale or maybe even a stout might be lurking! So don't just ask for "una canya" or "una cervesa" as the tendency is for bar staff to just serve a canya of lager without letting you know about any other types of beer they might have available.
And we're not just talking about craft beers here. In the past, it would have been difficult to even find imported beers from such wonderful beer-producing countries as Belgium, Ireland, Germany or the USA or UK. You could find certain brands in some supermarkets but finding them in bars was a trickier proposition. Thankfully this situation is also slowly but surely beginning to change.
So where can I find some good beers?
In the past Irish pubs would have always been your best port of call if searching for foreign or craft beers in Spain but, thankfully, many local bar owners have cottoned on to the changing market and are beginning to stock some fine brews too, both foreign and domestic. In Barcelona, there are too many to mention but a quick search on Google Maps will yield results.
GIRONA CITY
In Girona there is an ever-growing number of bars that carry at least a few craft or imported beers so you shouldn't find it difficult to find something decent to drink. Here are just a handful of the most interesting bars that have great beer selections, starting from the bottom end of La Rambla and walking northwards:
B-12
Just off the beginning of La Rambla right in the heart of Old Town Girona, this place is both a vegan restaurant and a bar. All their beers are microbrewed and Catalan. The last time we checked they had over 50 beers to choose from.
---
McKiernans
This is a fairly typical Irish-owned pub with all the usual imported beers and ciders you'd expect plus a few television sets for watching sports. Located as it is right on La Rambla itself, the terrace is a perfect spot to watch the world go by while enjoying a pint of Guinness, an IPA, a weißbier or maybe a cider.
---
Kerunta Brewpub
On the other side of the river, half a block from Plaça de la Independència, this brewpub, as the name suggests, brews its own beers. Apart from their range of bottled and canned beers, they have a dozen taps with two pouring their own brews and the rest serving a mix of both imported and domestic beers on a rotating basis. They have a blackboard explaining the selection on offer at any time (type of beer, where it's from, strength of alcohol and price) and the staff are friendly and happy to answer any questions you might have. There is plenty of seating and they also do some very nice food.
---
Bagels & Beers
Half a block off the other side of Plaça de la Independència, this place specializes in… well, the name says it all really, doesn't it? But the bagels aren't just any old bagels but rather bagels as you've probably never seen them before! And as for the beers, they have six craft beers on tap that change regularly so even if you visit a number of times there should still be something new for you to try. The selection of craft beers in bottles and cans is pretty extensive, and the prices are fair. The staff are super friendly and the owner is British so you can ask all your questions in English if you like. And if you have someone along with you who is a bit less adventurous when it comes to beer, they also serve Estrella Galicia, which, as Spanish lagers go, is amongst the best.
The Crafty Bear: Just a couple of minutes away from Bagels & Beers is their shop where you can buy some of their lovely brews to take home with you.
---
Babilonia
Only another minute's walk away (this is a good neighbourhood for good beers!) and across the road from the beautiful Parc de la Devesa is a relatively new addition called Babilonia. Here they serve sixteen all-natural craft beers on tap which you can check out on the menu on their website (available in English). They also sell a range of mostly imported bottled beers, plus a couple of local ones as well as organic wine, cider and kombucha and even a handful of beer-based cocktails! Worth checking out.
---
El Doll
This bar used to be worth visiting for the novelty value of the beer taps on each table allowing customers to pour their own pints or cañas of beer. Now, the beer on tap in question at some tables is San Miguel so be careful where you sit! Thankfully they now also have a range of bottled beers on offer, including beers from Belgium, Germany the USA and a couple of local Catalan ones as well.
---
La Taverna del Drac al Cau del Llop
This bar is fairly new on the scene. They originally set up shop in Sant Feliu de Guíxols but after only about a year or so they relocated to Girona in August 2022. They have 12 different varieties of their own beer and unlike many other craft beers, these are all fairly low in alcohol content and so could be classified as session beers. The tavern also stocks other bottled beers, as well as their own and their website even, has a page on the "benefits of beer"! The food menu is vegan-vegetarian and you can check out both the food and beer menus on their website in Catalan, Spanish, French and English.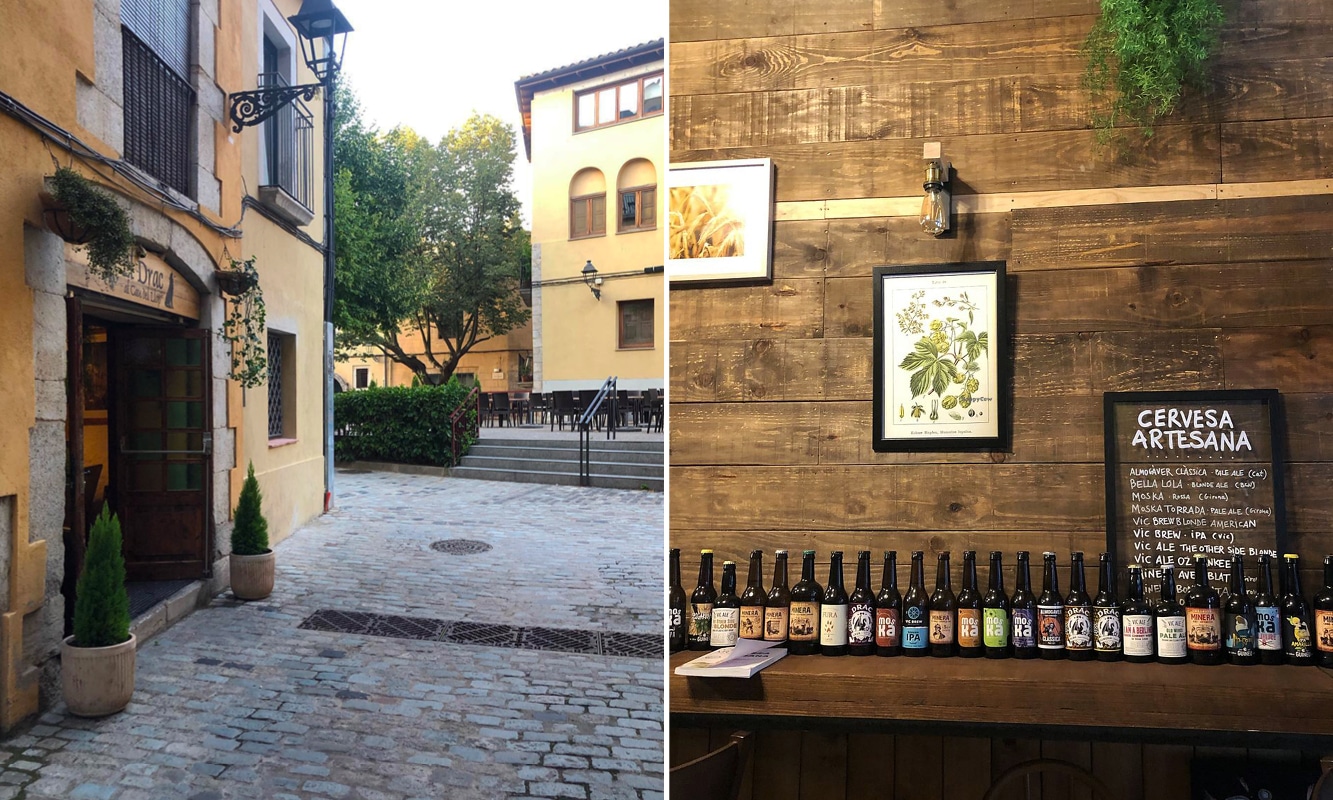 ---
Closer to home
While most bars around here are still the one-beer-on-tap variety, don't despair – hope is at hand as things are improving! Here are a handful of places worth checking out that have a decent variety in their beer selection. No doubt there are more but even we can't go to every bar in the area! You'll just have to do some exploring yourselves too!
PLATJA D'ARO
Cactus Bar
If you want to catch a game on tv, this is by far the best sports bar in the region, with (at least) 8 screens and with loads of tv channels from a number of countries. You can check their Facebook page to see what's on, and while you're watching the match you can choose from a great selection of imported beers – especially Belgian – and most with the proper glass to go with each beer! They also serve pub grub style food.
---
PALAMÓS
Palamós is slowly but surely becoming the No.1 Costa Brava town for beer lovers with more and more bars selling more and more beers. The following are just a few of the better ones.
Bitácora
Run by a young Catalan couple, this very popular spot has Pilsner Urquell from Czechia on tap and a fine selection of Belgian and American bottled microbrews as well as some domestic craft beers you are unlikely to find anywhere else around here. The food here is really fantastic too! They even host an occasional beer tasting session with an expert brought in to explain the beers to you as you drink them! Not that you'd need any advice on how to drink, of course!
---
The Currach
This small Irish-owned and operated bar, a stone's throw from the church in the centre of town, has two Irish craft beers on tap plus about a half dozen bottled beers, both imported and local. The draft beer is also craft beer, produced by O'Hara's Brewery in Ireland and now distributed throughout Spain by Estrella Galicia. There is a lovely IPA and a stout that we think is even better than Guinness! Despite its small size, this is a good place for watching sports too.
---
Altamar
This place is to be found on the square beside the church in Palamós and has arguably the best views in town. It changed hands in early 2021 (it used to be Casino) and with the change came an improvement in the choice of beers. They have Founders IPA, Leffe Brune and a Basque lager called La Salve on tap, as well as a few other bottled brews. Although it is principally a restaurant, it has the advantage of remaining open from noon throughout the afternoon for drinks from mid-June until mid-September when most other places are shut – so you can go and enjoy that lovely "view with a brew" any time of day (except Tuesdays).
---
Los Secretos del Cubano
The beer scene in Palamós is certainly improving all the time and this Cuban-run establishment only opened in early 2022. There are a number of Belgian beers, both bottled and tapped and the owner, Armando, is very enthusiastic about his beers. If he's not too busy he is more than happy to talk you through his collection of unusual large bottles of Belgian beer. The food here is good too!
---
Tiracanyes
Tiracanyes only opened just in time for the summer season of 2022 and so are the newest kids on the block. They are located down by the Port of Palamós and serve Guinness Irish stout and IPA on tap as well as a number of Belgian and German beers as well as the usual Spanish lagers. They also stock a pretty good selection of Catalan craft beers.
---
La Singular
Only open since early 2022, La Singular is a shop, not a bar, but we decided to include it as the owner, Xavier, does stock a nice selection of Catalan craft beers. Although he scales back his opening hours after the main tourist season, he does take online orders and speaks English – and he does also sell a whole range of other high quality artisanal food and drink products.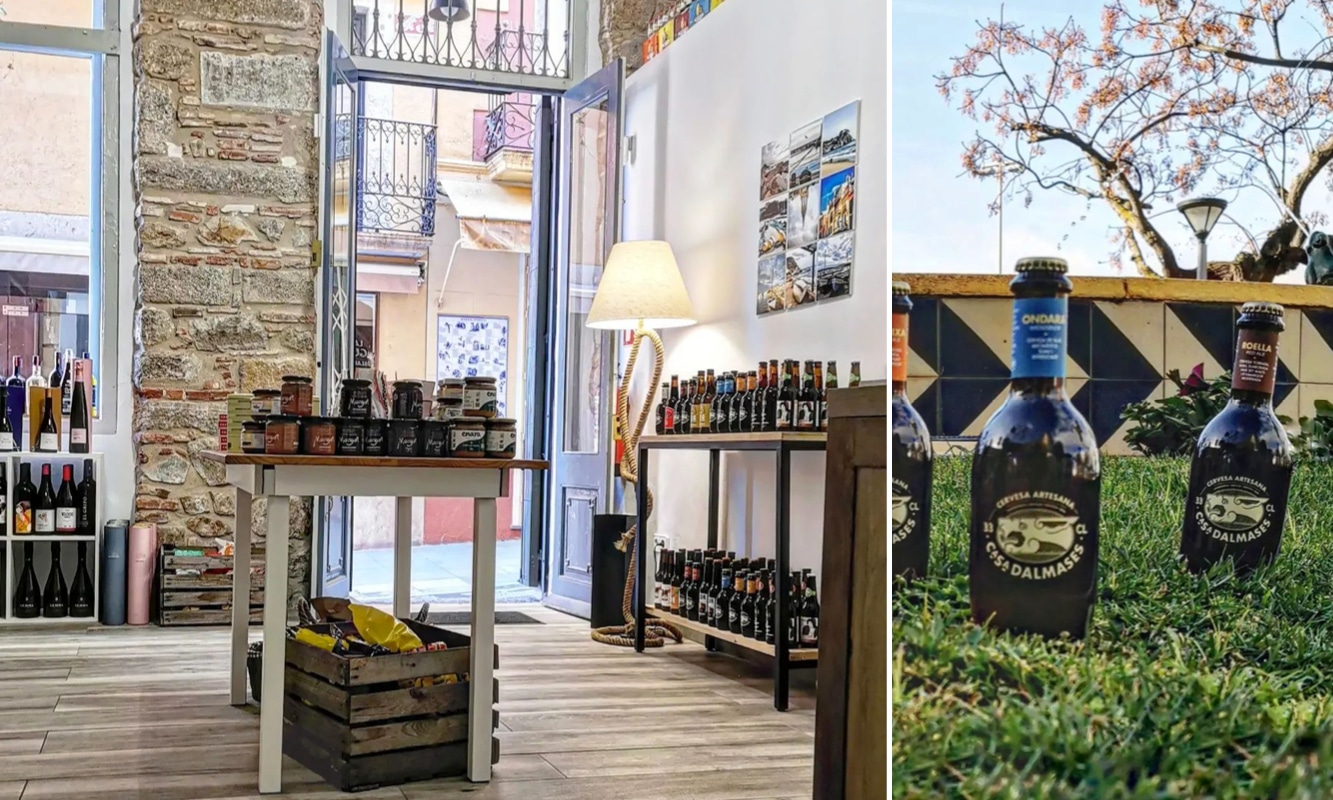 ---
L'ESCALA
EO! L'Escala
This café-bar comes in two parts: the "normal" bar and right next door, the craft beer bar, which was opened in December 2020. They have 6 craft beers on tap that constantly rotate so you'll never get bored, plus a few more in bottles. The bar is in a beautiful setting on Plaça de Sardana, right by the beach in the old part of L'Escala, so as a place to sit for a while and drink some quality micro-brewed beers, it'd be pretty hard to beat.
Update October 2022: During a visit to L'Escala for the Salt Festival, we popped into EO! thinking to enjoy a nice local craft beer or two – only to discover that the 6 craft beers on tap were not available. The taps were still there but only bottled beer was available. As a manager wasn't present at the time we were unable to find out if this was because of the end of the main tourist season and a return to a simpler beer menu for the winter, or if the craft beers are gone for good. We'll let you know…
---
Cerveseria Frankfurt
About 100m up the street from the same Plaça de Sardana we came across another pub that we discovered has a nice selection of both domestic and imported beers. As well as a few Spanish classic lagers they also offer beers from the Netherlands, Italy, Belgium, USA, Mexico, Germany and Ireland (including Guinness). The bar remains open through the winter months and the owner, Carlos, is very friendly. There's a terrace out the back of the pub and they also serve decent pub grub, show live sports on TV and even have live music from time to time.
---
L'ESTARTIT
Old Ambient
If you enjoy sampling beers from around the world, then you'll definitely enjoy this place! They have a extensive selection, especially from Belgium. It's also well-named as it has plenty of ambiance and character – the kind of place you could spend hours in. It's also a good place for watching sports and they have a games room too with a pool table and dartboard. The staff are pretty multilingual too.
---
Heading in from the coast a little we find a couple of absolute gems that are well worth the short trip:
RUPIÀ
DosKiwis Brewing
Run by a New Zealand-Catalan couple, this great place brews its own beer and has a very impressive variety of different styles of beers just waiting to be sampled including various pale ales and IPAs, a pilsner, an imperial milk stout and a sour, with the focus on "modern, drinkable, flavourful beers". And since DosKiwis brew no gluten-free or alcohol-free beer, they have instead a local artisanal cider, an all-natural gluten-free white wine and kombucha, a type of fermented tea which has virtually no alcohol and which they make themselves. Seating is mostly outdoors in a lovely beer garden and although there are quite a few tables it is a good idea to reserve a table in advance – especially if you plan on ordering food – as this place is very popular.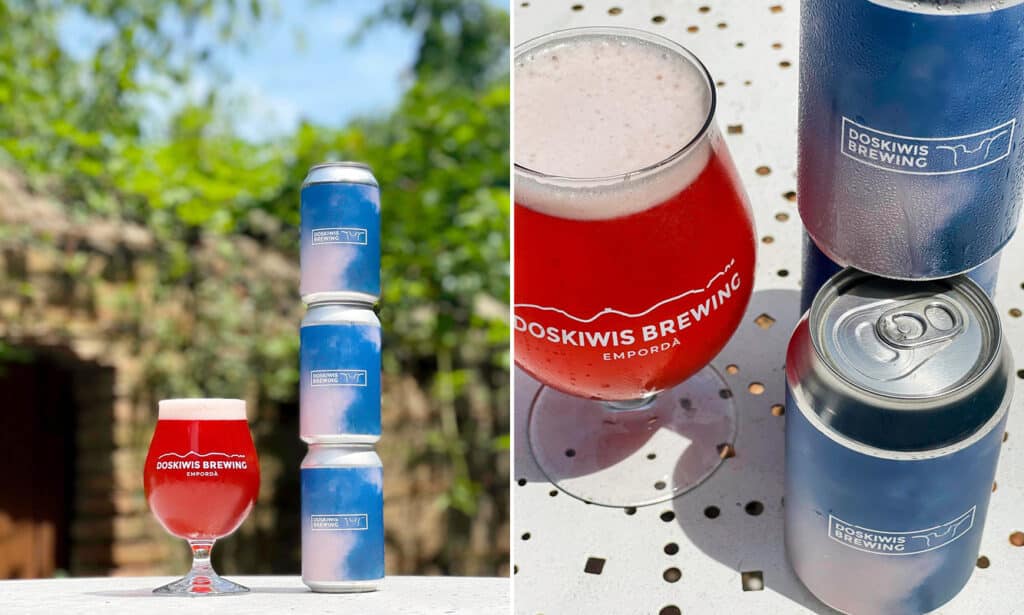 ---
JAFRE
El Birrot
Along similar lines and just up the road from DosKiwis, in the middle of the quaint little village of Jafre, El Birrot also has a half dozen or so Catalan craft beers on tap, plus dozens more available in bottles and cans, some domestic and others from much farther afield. The staff seem to have endless patience, happily answering every and any question about the different beers and offering recommendations. These guys also do some really tasty food and the setting is just beautiful. A very friendly place.
Proost! Sláinte! Salut! Santé! Salud! Prost! Skål! Cheers!
---
P.S: Between October and Easter be sure to check on opening days and times beforehand to avoid 'bitter' disappointment! (See what we did there?!)